FREQUENTLY ASKED QUESTIONS
ABOUT OUR PRODUCTS
What are the eyes made from?
Our eyes are made from polyephir composite by patented technology. The iris and pupil are digitally printed, which allows us to create high quality images. The image is refracted by the strong lens in a special way, creating the unique "looking at you" effect. You may think that we provide some kind of acrilyc eyes but our products have much more advantages.
And what are the advantages your eyes you have told about?
- hygienic and safe to use in children's toys;
- extreme hardness, chemical stability and heat resistance;
- can be dry-cleaned, treated with organic solvents;
- can be heated up to 130°С (about 260°F) for 30 min.
- the unique "looking at you" effect.
How the eyes can be fixed?
We have two attachment options for our eyes. By default all eyes are manufactured with a plastic leg on the back and are delivered without fixings. Fixings to each eye size can be selected and ordered additionally in the "Fixings" category. For round eyes, we also offer a wire loop for sewing on. For those eyes, you can choose the attachment type when ordering.
You can choose the type of fastening while ordering.
If you need, you can easily cut the leg or the loop with a wire-cutters. You cannot break out the peg. This will lead to the iris damage.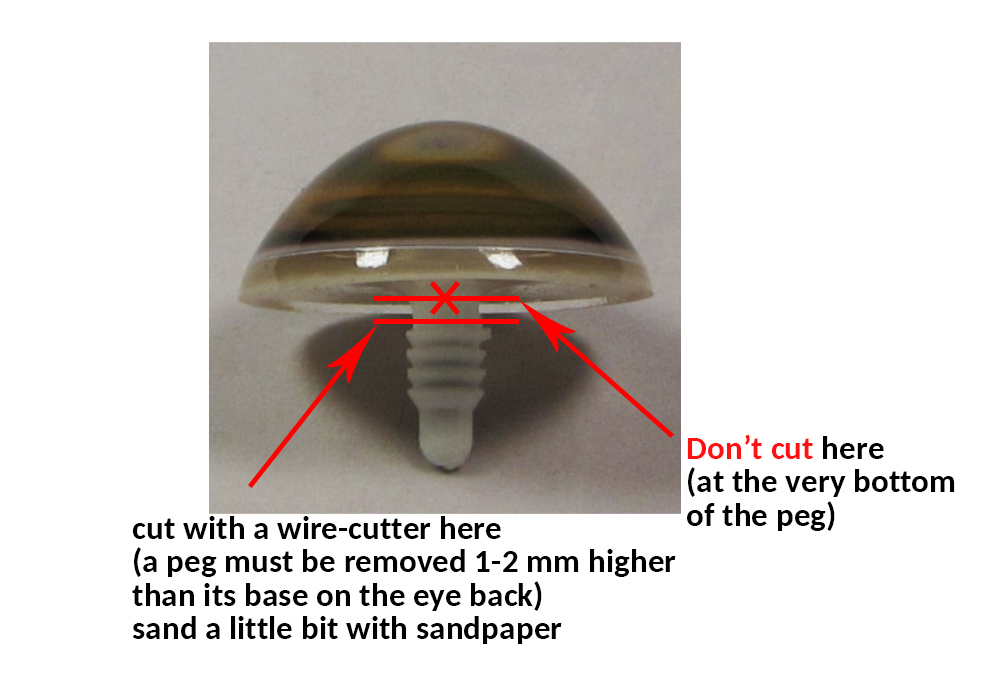 The peg must be removed 1-2 mm higher than its base on the eye back, sand a little bit with sandpaper.
Can you make custom eyes?
In most cases, we can. There is a 20 EUR charge for the first pair of custom eyes. If you want to buy 30mm eyes and larger the fee will be 20 EUR + regular price of that size. After that you (and other customers) will have an opportunity to buy the same eyes at regular prices. To order custom eyes, email us at info@glazki.by, confirm that you have read the terms of the order and agree with them, send us high-resolution pictures and describe what you need.
ORDER AND PAYMENT
How can I make an order?
To place an order, just review our catalogue or use the search box on the main toolbar. When you have found an eye you like click on its icon, select the size and other options (if any) and click "Add to Cart".
Please note that eyes, eyelids and washers are sold per pair while noses, cabochons and pendants are sold per item.
When you're done with the catalogue, click the cart icon on the main toolbar and then click View Cart. Review the products in the basket, make any necessary changes, and click "Proceed to Checkout".
If it's your first order with us, the system will ask you to sign in or register on our website. Don't worry, registration will take just a few seconds but will allow you to avoid re-filling information about you, as well as receive information about our promotions.
Then, enter your shipping address, select a shipping method and a payment method. You will be directed to our payment provider's secure server where you can make a payment.
If you have doubts about the choice and you need our advice, then you have the opportunity to place a "Pre-order without payment" and discuss issues with the store administrator. The site will provide such an opportunity at the stage "Billing options".
How can I change or cancel my order?
If the order has not been sent yet, you can change products in it without any problems. If you need to change the order or cancel it, try to do it in two days after payment. Most of the eyes are made to order and after launching your order into work, changing it or canceling it will be problematic. If you need to change the order, write us at info@glazki.by as soon as possible
Can I place an order from foreign countries?
Absolutely! We ship worldwide and have regular consumers in over 30 countries around the world. If at checkout you cannot find your country in the selection list, we will not be able to send the order to your country. If you still have doubts, write us at info@glazki.by.
How can I pay for my order?
We accept all major credit cards via our payment processing partner WEBPAY. Your credit card details are transferred over secure networks. We never see your credit card information.
Do you accept Paypal?
Unfortunately, we don't. Paypal is not available to online stores in Belarus.
Is my credit card information safe with you?
We use a payment processor WEBPAY, which is a PCI DSS certified company. We never ask for, see your credit card information.
After making a payment using a bank card, save the card checks (confirmation of payment received in the online store) for comparison with the card balance.
My payment is not accepted. What should I do?
Please make sure you enter your credit card details correctly and your credit card has sufficient balance to cover the payment. In some cases, your bank or our payment processor's bank may refuse the transaction for internal reasons that are beyond our control. These cases, however, are rare. Anyway email us at info@glazki.by, mention error code of the transaction. We will try to help you.
In case the payment has passed (money for the order has been debited from your card), but you have not received confirmation from our store, also write us at info@glazki.by.
SHIPPING
When will my order be shipped?
We try to keep popular sizes and models in stock. If all products in your order are in stock, we will ship them within 5 business days. However, some items are made to order. In that case your order will be shipped within 10 business days. But most orders are sent within a week.
Also you need to consider that the shipping time can vary from several days to a month or more depending on the region (to the countries of America, Africa, Southeast Asia and Australia).
If shipping time is extremely important to you, choose delivery by express mail EMS.
What shipping options do you offer?
We ship via registered airmail or EMS express mail. Both options include order tracking but EMS is a little bit faster and in some cases can be delivered to your door (it depends on the local EMS operator in your country).
How much does shipping to my country cost?
The shipping rates are the same for all countries we ship to.
The easiest way to estimate shipping for your order is to click Cart -> View Cart and then click Shipping cost: CALCULATE at the bottom right corner of your cart. You will see the shipping cost calculation for your order.
The shipping rates are calculated as follows:
Registered Airmail
For orders that weight 100 grams or less, we offer a flat shipping rate of 5 EUR.
For example, 100 g is about 200 pairs of 7 mm eyes, about 80 pairs of 10 mm eyes or about 18 pairs of 20 mm eyes.
For orders that weight over 100 g, the shipping rate is calculated as follows::
ORDER WEIGHT
SHIPPING RATE (REGISTERED AIRMAIL)
up to 100 g
5 EUR
100 to 1000 g

Add 1 EUR per 50 g (100 g = 6 EUR, 150 g = 7 EUR etc.)

1000 to 2000

g

Add 1 EUR per 100 g (1000 g = 24 EUR, 1100 g = 25 EUR etc.)

2000 to 5000

g

Add 5 EUR per kilo (2000 g = 35 EUR, 3000 g = 40 EUR etc.)
EMS Express Mail
EMS is a faster but more expensive alternative to registered airmail. The EMS shipping rate is calculated as follows::

ORDER WEIGHT
SHIPPING RATE (REGISTERED AIRMAIL)
up to 500 g
30 EUR

500 to 1000

g
36 EUR
1000

to

2000 g
50 EUR
2000

to

3000 g
65 EUR
3000

to

4000 g
80 EUR
4000

to

5000 g
90 EUR


How can I track my order?
To track the package, use the tracking code, which is sent to you in by e-mail after the parcel is shipped. Also the tracking number can be found in your account by selecting the necessary order in the list. Check the movement of your order at your country postal services website.
RETURNS AND EXCHANGES
Can I return or exchange the products?
We stand behind our products. If, for any reason, you are not fully satisfied with the eyes you received, you can return them within 14 days of receipt for a full refund or exchange. If the goods were damaged or if you got wrong products, we will also pay for return shipping.
Attention: for orders paid by credit card, the refund can be made only to the card that was used to make the payment.
What is the procedure for returns?
To return an order, follow these 4 simple steps::
1. Let us know
Write us at info@glazki.by include your full name, shipping address, order number and date, as well as the reason for the return or exchange. If you received damaged products, please also include a photo of the defect.
2. Pack the items
Pack the items you return the same way they were originally packed to avoid damaging them in the mail.
3. The parcel must be sent with a trackable shipping method
Send the items to us using a shipping method that allows parcel tracking. Make sure you keep the mailing receipt until you receive your refund or replacement. Use the following address to return the items:

Alexander Plysheuski PLC
Chapaeva 1-315
222520 Borisov
Belarus
Phone: +375 29 305 7872

4. Send us the tracking number
After sending the items, email us the tracking number at info@glazki.by.
Attention: make sure this step is completed within 14 days after you receive the products.
We will issue a refund only if you mail the products back to us and send us the tracking number within 14 days after your receipt of the items. The return is considered completed only after we receive and check the returned items.
When will I get my refund?
We will issue a refund only if you mail the products back to us and send us the tracking number within 14 days after your receipt of the items. The return is considered completed only after we receive and check the returned items.
A refund is normally issued within 15 days after we receive the returned products. If you don't receive your refund withtin three weeks after we receive the returned items, please contact us at info@glazki.by.
Who pays for return shipping?
If you received damaged or wrong items, we will cover the return shipping cost. In all other cases, the return shipping is at the customer's expense.
STOCKS AND DISCOUNTS
Can I use several stocks and promo codes at the same time?

Promotions and discounts are not cumulative. You can use only one promo code.
OTHER QUESTIONS
I did not find answers to my questions here. What should I do?

Write us at info@glazki.by. And we will definitely help you. .