Classic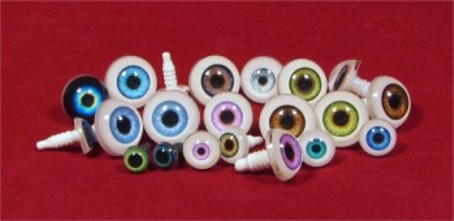 Our eyes are made using our own patented technology that gives them extreme hardness, chemical stability, and heat resistance. The eyes can be dry-cleaned, treated with organic solvents, and heated to 130 degrees Celcius (about 260 degrees Fahrenheit) for 20 minutes.
The iris is digitally printed, which allows us to create very complex images. The eye consists of a clear acrylic hemisphere molded over a digitally printed image of the iris and pupil. The image is refracted by the strong lens in a special way, creating the unique effect of a real eye.
On the back side of the eye, there is a ribbed plastic peg that helps position and set the eye on a mold. It can be easily snapped off if not needed.
* Please note that the tints on the monitor may differ from the real eye tones, due to different screen settings.
Reviews
Write a review